Patients are changing their habits barely a year after Connecticut's six medical marijuana dispensaries opened. Rather than smoking, patients find quick relief by inhaling its vapors and therapeutic oils, while others eat cookies or place strips with the various ingredients into their mouths to alleviate pain, nausea, seizures and other conditions associated with the growing list of ailments. Angela D'Amico, owner of the Compassionate Care of Connecticut dispensary in Bethel, commented that the shift from smoking is the result of a widening array of treatment options. A pharmacist at the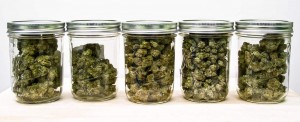 dispensary recommends treatment depending on the patient's condition.
Cancer patients vaporize marijuana with high percentages of THC, the psychoactive ingredient in the plant, for quick relief of the nausea that accompanies chemotherapy. Those with neurological and inflammatory conditions, however, are given marijuana with lower amounts of THC and higher percentages of CBD.
Bonnie Miller, 53, of New Milford, is a medical marijuana patient who was diagnosed with multiple sclerosis when she was 30. Twice a day, she takes a syringe full of marijuana oil with higher concentrations of CBD for inflammation. When she became a patient at Compassionate Care, Miller needed a wheelchair or power scooter to get from the handicapped parking spot to the front door. Now, she navigates a walker.
Also worth noting is that a year ago, prices of cannabis were significantly more expensive than the underground market, but now they have dropped drastically and are now competitive, according to dispensaries, state officials and market analysts.
When the first marijuana was delivered to the dispensaries last year, it cost up to $450 an ounce. With the increase in supply and the number of patients in the program growing to 4,914, the price is now at $320 per ounce which is competitive with the underground recreational market. High Times, the magazine of marijuana culture, reported last month that average prices in Hartford were $350 per ounce while Leafly, a marijuana website that chronicles the medical and underground markets, indicated that in Boston, indoor-grown marijuana was selling last month for $300 an ounce.
About 100 of Compassionate Care's patients get either free or reduced-price marijuana products under a program funded by the business.